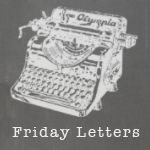 Dear Husband,
Happy birthday!!! I hope you have a wonderful day and feel how loved you are. You would totally be having a fun little get together if you would have agreed to it but instead, I plan to bring home alcohol and ask you a hundred times what you want for dinner until we finally cave and order Chinese food. This is your warning.
Love you!!
-Wife
Dear Honey Boo Boo television show,
I don't know how but you completely sucked my two-year-old into staring blankly at the tv for half an hour last night. He was totally in love and I'll admit, I kinda liked it too. Which confirms my long standing observation of reality tv: if you watch a show, ANY show, for one full episode you will be hooked. Try it. Pick whatever you think is the most ridiculous, I'd Never Watch That, show and watch an episode. I'm telling you. Those television professionals are good.
-New viewer
Dear fall,
I curse you every year you start to come around and this year is no different. I could completely care less about dead leaf piles, pumpkin spice lattes, brown boots and scarves. If I could skip over you (and winter as well) I would. Fall, you depress me. I hate the cold weather and darker days and the minute you start to get near me I panic a little. I think about how long it will be until it's sunny and warm again and the room starts to suddenly feel like it's getting smaller and I suddenly need to breath into a brown paper bag. Sigh.
-Fall hater
Dear new shoes,
I love you. You bring me so much joy and you only cost $32 at JC Penny. My Christmas list this year will simply consist of you in every color. Thank you Liz Claiborne for making these. And also for the aviator sunglasses I scored for $7 on Saturday. You rock, girl.
-Happy feet
Sher Bailey is a writer in the Midwest who believes the power of humor, Mod Podge, and grandkids can fix most problems in life. You can find her at SherBailey.com.