With two kids and two dogs my car is always a mess. And it smells like a mess 99% of the time.
I can't stand the air fresheners in the auto section, they just smell so awful and strong. So I'm excited to try these awesome car smell hacks!
10 Hacks To Make Your Car Smell
First off, fill tiny mesh wedding favor bags with Downy Unstoppables! How smart is that? You can put them in your car or even dresser drawers, the bathroom, etc. via Pinterest
Make a quick an easy car oil diffuser with a clothespin and craft pom poms! via One Crazy House
Or buy a cute one from Etsy!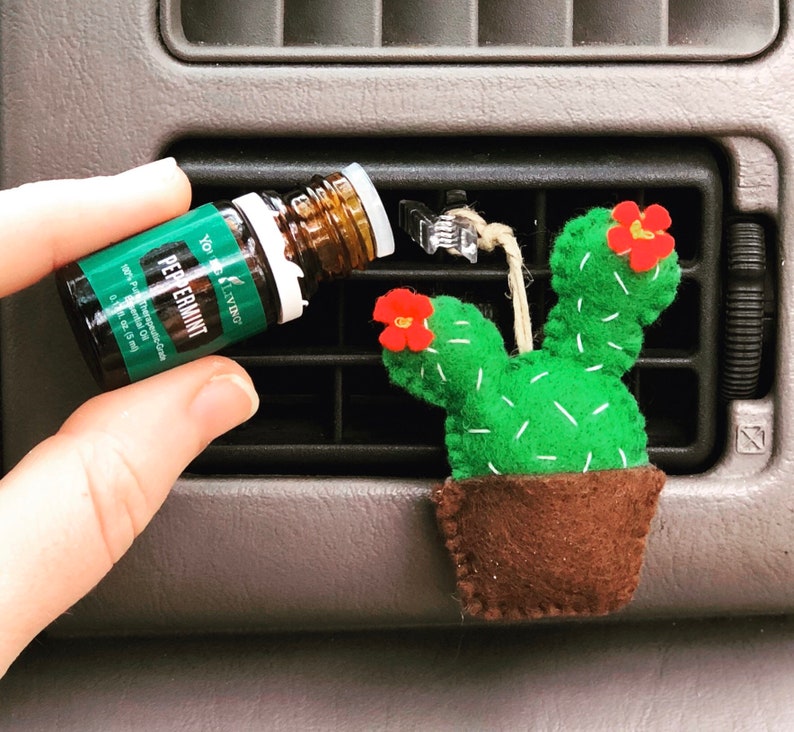 Clean out your air vents with Lysol following this great tutorial. I can't believe I've never considered cleaning the vents before! via Car Reviews
These air purifying bags are PERFECT for the car. It absorbs and removes odors, mildew and bacteria. You can use these all over the house, too.
Sprinkle this odor buster on the floors and on cloth seats prior to vacuuming to get out any old smells. via Right at Home
This is SO smart –> put wax melts in a 4 oz mason jar with the top that has holes and when the car gets warm it will heat the wax. via mrslaruenash on Instagram
Or put them in a salt shaker! (source unknown)
Similarly you can put a leftover candle in your car and when the sun beats down on your car, the wax will melt and smell amazing! via Krazy Koupon Lady
These tiny portable essential oil diffusers are not just for making your car smell great but when using the right oil can help you stay awake on a long drive or pump you up on your way to that meeting! They come in lots of cute colors.
Do you have a REALLY epic smell you need to get out of your car? Maybe you left all the windows down during a thunderstorm? Maybe someone was smoking in your car and you can't get the smell out? This odor fogger will get rid of it all, quick. Even skunk smells!
And for the quickest smell hack yet? Just grab a couple fabric sheets and stuff them in the vents – voila!
Liz is a just a mom trying to keep it real about how little she sleeps, how often she gets puked on and how much she loves them. You can find her here every day writing about real-mom moments.