This is a sponsored post written by me on behalf of Hallmark Hall of Fame for IZEA. All opinions are 100% mine.
I adore a good family movie. We watch movies at our house constantly! Even though I really love dramas and romantic comedies, my new favorite type of film to watch is a family movie. One that my kids can watch with us and we will all enjoy.
Not that I mind cartoon or animated films, but I just love a feel good movie that my husband, my self and my four year old ALL really like. That doesn't happen as often as I'd like and I am on the prowl constantly to find new ones to add to our collection.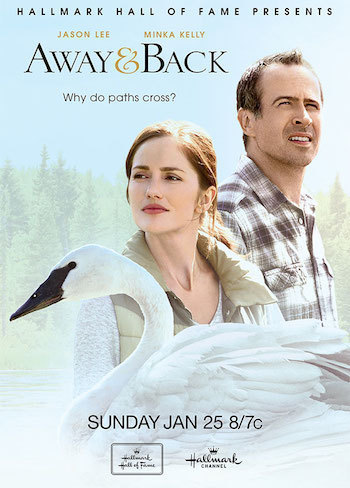 There is a new movie premiering on Sunday, January 25th at 8/7 Central on Hallmark Channel called AWAY & BACK that I'm so excited to watch! It's a heartwarming, family-friendly film that brings adventure, humor and romance.
When a family of swans makes their home on the Peterson farm, it's love at first sight for 10-year-old daughter Frankie . But along comes no-nonsense ornithologist Ginny Newsom, who rushes in to "save" the majestic birds.
Vacation Sweepstakes!
Hallmark Hall of Fame is running an amazing sweepstakes to give one family $3000 toward the cost of a vacation. How amazing would that be?!
Click here to watch the trailer and enter! AWAY & BACK Trailer – Share to Win Sweepstakes Good luck!!
Liz is a just a mom trying to keep it real about how little she sleeps, how often she gets puked on and how much she loves them. You can find her here every day writing about real-mom moments.