SO WHAT if…
I have totally checked out at work.  I mean, my last day is Friday and my heart and brain just aren't in it.  It's like getting a test in the last week of school and you're like, really??
I'm totally into children's television.  Not the cartoon ones, although they don't bother me, but the Nickelodeon tween shows.  I'm such a big fan of Jessie.  I'm like, "Brady don't you want to watch Jessie?!  Please?"  And also Good Luck Charlie and Dog with a Blog.  I think they're just good wholesome tv and they're witty and entertaining.  Oh my gosh who am I…
I'm caving into Brady's Halloween costume choice.  I want him and his sister to match so badly… Woody and Jessie… Peter Pan and Tinkerbell… Smurfs… but he INSISTS on some sort of ninja or power ranger.  Wants nothing to do with the things I suggest.  Ugh.  I'm going to let him have his way but I'm totally bummed.
Fall has become exponentially more appealing since I bought riding boots.  I've always hated fall*.  No pumpkin spice lattes and rolling around in the leaves for me.  Just depression knowing that winter and cold are around the corner.  I may have mentioned it once or a billion times.  But this year I'm kind of digging it!  I think a lot of it has to do with wearing riding boots with leggings and that gets me going.  (So does not having to go to work everyday.)
I have that annual urge to chop my hair off.  Really short.. like Kelly Ripa's new do.  But I won't because I know I will regret it and spend another two years growing it out again.
Tell me what you're saying so what to this week… go link up with Shannon!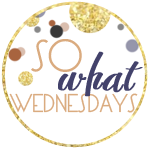 *My exact words from this time last year:
Dear fall,
I curse you every year you start to come around and this year is no different. I could completely care less about dead leaf piles, pumpkin spice lattes, brown boots and scarves. If I could skip over you (and winter as well) I would. Fall, you depress me. I hate the cold weather and darker days and the minute you start to get near me I panic a little. I think about how long it will be until it's sunny and warm again and the room starts to suddenly feel like it's getting smaller and I need to breathe into a brown paper bag. Sigh.
-Fall hater
Liz is a just a mom trying to keep it real about how little she sleeps, how often she gets puked on and how much she loves them. You can find her here every day writing about real-mom moments.