Its So What Wednesday time and I'm linking up with Shannon again this week.  Today, I'm saying SO WHAT! if:
Once again I came to work with wet hair.

I'm pimping my blog contest out all over the place.  Why wouldn't I?  It's awesome!
I turned the air conditioner on for 3 hours last night.  No one can sleep when its 80 degrees in the house.
If I desperately need some summer maintenance done, ie: spray tan, pedicure.
I haven't taken many real camera photos lately – at least I've got my iPhone.
Speaking of iPhone photos, so what if I totally had a mini-break down when Instagram went down for a day and a half.
I'm obsessed with my new Stella & Dot bag and wallet.
Sometimes I secretly wish I could get laid off from work.
My desk is a disaster.
What are you saying so what to this week?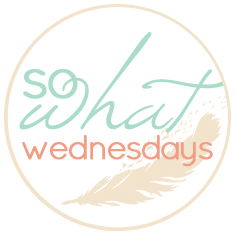 Liz is a just a mom trying to keep it real about how little she sleeps, how often she gets puked on and how much she loves them. You can find her here every day writing about real-mom moments.