You may have read a post I wrote recently about a trip our family took to Miami. We had so much fun and I am looking forward to planning another beach trip soon. (affiliates included)
The cool thing about that trip was that the amazing Trump Miami hotel we were able to stay at, gave me two free nights because of this blog. (If you want to start your own blog, head over here to find out how to do it.)
They also gave our family of four tickets to their incredible breakfast buffet.
This is one of the most amazing things about blogging besides earning a living doing something you love to do. It's getting to work with great companies that are willing to exchange products (or in this case, rooms) for your help with telling your audience if you loved them.
If you don't love them, that's a different story. But we really loved Trump Miami!
So how did I convince them to let us stay there for free? Well, it's simple.
(Keep scrolling to the bottom for more great travel blog tips!)
How I Use My Blog To Get Free Hotel Rooms
It didn't take me much time to find several hotels that were excited to host us on our trip. All I had to do was ask! Don't roll your eyes at me, I'm totally serious.
If you have a blog, even a small one, there will be hotels, resorts or bed and breakfasts that will want to work with you. If your blog is small, it may just take a you sending a few more emails and leveraging the things you do have: followers on Instagram, Twitter, Pinterest, Facebook, etc.
(If you want to start your own blog, head over here to find out how to do it.)
How do I ask them for a free room?
Start by finding hotels in the area you're planning to go. You can look around for a contact email that is probably a generic info@somehotel.com and you can use it. But better than that, is finding an email address for a specific person that handles this sort of thing.
Look in the menus or small print on the bottom of their website for something that may say PR or Press Room. There, you will usually find direction on who to email for media inquiries.
What do I say to them?
At a blog conference last summer I learned an important lesson from some PR people: don't start off asking for the world.
What they explained, is that you shouldn't send an email spouting stats and asking for free things. You should introduce yourself (just like you would if you were meeting in person), explain to them in your own words why you'd like to stay there (and why your readers would be interested in hearing about it), and ask if there may be a chance to work together.
If you have a trip planned already (plane tickets purchased, time taken off of work, etc) then you can add those dates in, if not leave it open.
Make a list of all the places you'd like to stay and email each one. The more you contact, the better chance you have of one saying yes.
Good luck!
Right now you can start your own blog for less than $4! Check it out here or if you need a little help you can read my step-by-step guide here.
Do you want to learn more about making money as a travel blogger?
Nomadic Matt is a travel blogger that has been earning $30,000 a month according to Forbes magazine. He created this course to help you start growing your blog, living your dream, helping others, and turning your hobby and passion into a profession!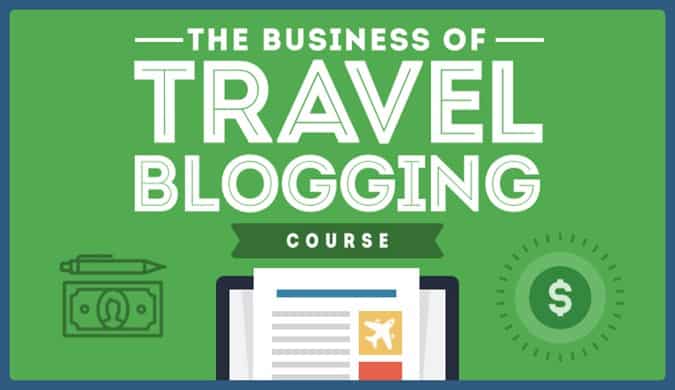 Liz is a just a mom trying to keep it real about how little she sleeps, how often she gets puked on and how much she loves them. You can find her here every day writing about real-mom moments.