Thanksgiving Breakfast Ideas that kids and the family will love making and eating.
Breakfast on Thanksgiving gets totally overlooked, doesn't it?  We're so focused on our huge dinner that we forget all about the most important meal of the day. Poor breakfast. So mistreated.
I for one love breakfast and don't want to skip it on November 27th.  In fact, it can even be fun and festive!  Here are some awesome Thanksgiving breakfast ideas that I found I thought I would share. The turkey cinnamon rolls and the miniature acorn donuts are our favorites.
Thanksgiving Breakfast Ideas
1.  Take a bag of donut holes and add pretzel sticks, nutella and sprinkles to make them look like acorns.  So adorable!  From Made from Pinterest.
2.  Turn your pancakes into a turkey with this idea from Kitchen Fun with My 3 Sons. Use fruit for the feathers!
3.  Yummy homemade Pumpkin pancakes recipe from The Girl Who Ate Everything.
4.  Homemade Pumpkin Spice donuts recipe from Hot Beauty Health
5.  Add bacon, edible eyeballs and a candy corn nose to your canned cinnamon rolls to make them look like a turkey!  From Pillsbury.
6.  If you're not too worried about overloading on sweets, try this delicious turkey donut idea from Dimple Prints.
7.  Another awesome turkey pancake recipe uses eggs and fruit as the feathers to keep a balanced breakfast.  From Kitchen Fun with My 3 Sons.
8.  Disguise your everyday Pop-Tarts into turkey legs!  This is such a cute idea!
9.  Make a toasted peanut butter sandwich with fruit feathers for a healthy breakfast idea from Working Moms Edible Art.
10.  This fruit turkey is healthy, beautiful and would go great with a side of eggs! From Skinny Twinkie.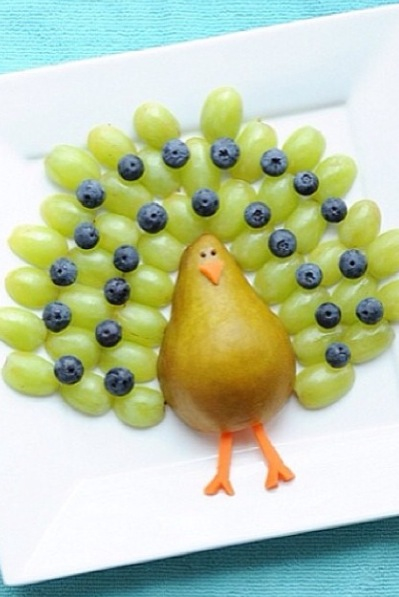 11. Thanksgiving Turkey Eggs in a Basket. With bacon feathers! Idea from Protecting Your Pennies
Oh, and if you haven't tried this Crock Pot Pumpkin Butter recipe, it is a total fall favorite!
Liz is a just a mom trying to keep it real about how little she sleeps, how often she gets puked on and how much she loves them. You can find her here every day writing about real-mom moments.