Birthday Breakfast Ideas that your kids and loved ones would be thrilled to eat.
I adore celebrating birthdays!  I feel like they should always be a big deal and everyone should feel special. At our house, we like to celebrate from morning until night. The whole day should we should be spent loving on the special girl or boy.
One super fun way is to start the day off right with a festive breakfast. These are mostly sugary sweet, but hey, birthdays only come once a year!
10 Brilliant Birthday Breakfast Ideas
Miniature Cake Batter Cinnamon Buns – These look delicious and adorable.  From Sallys Baking Addiction.
Mini Galaxy Donuts – Absolutely so tasty and really pretty!
Skinny Funfetti Cake Batter Yogurt – This breakfast is low calorie and full of protein.  From Amy's Healthy Baking.
Rainbow Waffles – Yum!  Here is a colorful waffle idea with whipping cream as clouds.  From My Cupcake Addiction.
Pink Cinnamon Rolls – Make these and add sprinkles to the frosting for a pretty princess breakfast.  From Love from The Oven.
Fairy Toast – Just add sprinkles on top of your normal toast makes fairy toast! Genius.  From What A Dish.
Pancake Muffins – It's a muffin AND a pancake!  From Just Baked By Me.
Fruity Pebbles Parfait – Cereal, yogurt and bananas make this awesome and creative birthday breakfast.  From Raining Hot Coupons.
Pink Pancakes – Make fun and festive pink pancakes!  From Kids Activities Blog.
Peanut Butter Banana Bites – This is great because it's little healthy and a little fun.  From Sugar Bee Crafts.
Strawberry Shortcake Snakes – Use strawberries, yogurt, and this shortcake recipe for a fun breakfast idea.  From First for Women.
Unicorn Toast – Beautiful and colorful toast with cream cheese colored with natural ingredients. From The Culture Trip.
Birthday Cake French Toast – Delicious homemade french toast with sprinkles. From Love from the Oven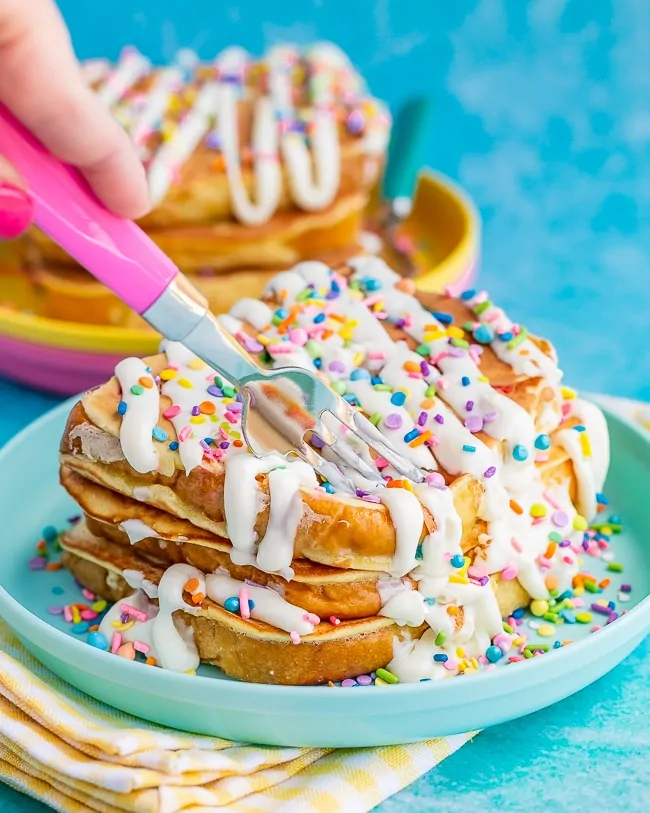 Funfetti Waffles – A fun and yummy breakfast with funfetti sprinkles. From Domestic Superhero.
After looking over these birthday breakfast ideas, go print out our Birthday Scavenger Hunt so they can go find their gift in a FUN way.
My kids love the added fun of needing to find their gift before they open it.
More Great Ideas
Liz is a just a mom trying to keep it real about how little she sleeps, how often she gets puked on and how much she loves them. You can find her here every day writing about real-mom moments.